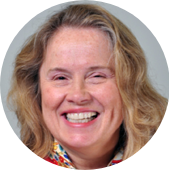 Trudi Sippola, MSOD
COO and Executive Coach
Trudi brings over 30 years of experience in human resource management, organizational consulting and executive coaching to GroupWorks. She has worked with senior leaders and teams and is passionate about effective transformation on all levels of system. She is certified in several assessment and change management toolsand continues to believe there is value in being a bridge person who helps to connect disparate groups and views.
fter many years working in large, complex organizationsincluding the University of Pennsylvania where she was the Director of HROD, she is happy to be a part of an inspired team of people who want to do great work. When she is not sitting at the computer, you will find her in the garden or playing with her dogs.