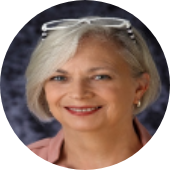 Sherry L. Read, MS, MBA, PCC
CLP Faculty and Executive Coach
Sherry brings her talent and expertise to the GroupWorks faculty for the Coaching Leadership Program (CLP).  She has over 30 years of industrial experience in finding solutions to leadership and business issues using skills in human resources, compensation, statistics, and process improvement. For the past 15 years, Sherry has been coaching on a global basis across a broad range of industries and nonprofit organizations, at all levels from CEO to first level technical leaders to Wharton MBAs. She combines her experience in international settings, her academic background as a student and adjunct faculty, current business resources, and continued development as a coach and coach supervisor in bringing thoughtful, pragmatic direction to her clients.
Sherry holds a BS in Statistics and Biometry, a MS in Statistics and an MBA. She has held positions in statistics, quality management, production planning, executive compensation and HR strategy. She brings her experience working in the US, Canada, Singapore, and China to her work with leaders on the challenges of leading businesses, delivering results through others, and driving change.