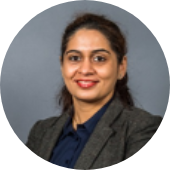 Neha Ghadge, MSODL, MBA
OD Specialist and Client Services Coordinator
Neha Ghadge started her journey at Groupworks Consulting LLC as an Organizational Development Intern and is now an Organizational Development Specialist and Client Services Coordinator.  She has prior experience as a Human Resource Analyst at FMC, HR Manager at Renewsys India Private Limited, Cockerill Maintenance & Ingenierie and Vedant Dyestuffs India Private Limited.
In her previous positions, she implemented centralised SAP Payroll Functions, organized and facilitated employee engagement programs for cross functional teams and designed the performance management programs for senior level employees.  She designed several human resources and shared services policies and documentation at her previous organizations.
Neha is a current doctoral student in Ed Leadership.  She holds an MS in Organizational Development and Leadership from Saint Joseph's University, an MBA in Human Resources Management and a Bachelor's of Engineering from Mumbai University.