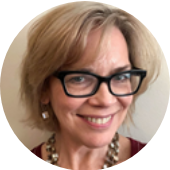 Mary McGuire Ruggiero, Ph.D., PCC
CLP Faculty and Executive Coach/ConsultantMary McGuire Ruggiero is Faculty for GroupWorks' Coaching Leadership Program. She is an experienced coach, OD consultant and consultant with a multi-disciplinary background including, strategic communications, change management, and adult learning, Mary has been able to partner with senior leaders to identify, develop, and build individual and organizational capability to achieve successful transformations and positive team dynamics.
A highly effective communicator and strategic thinker, Mary is effective at partnering with leaders at all levels, consultants, and cross-functional teams on high-visibility projects. With more than 10 years' experience in lead roles supporting large-scale change initiatives, Mary is able to translate strategy into actionable frameworks, methods, tools, and learning artifacts. She has designed, developed, and facilitated dozens of engaging educational modules and solutions to improve understanding among both staff and students that motivate desired behaviors and achieve outcomes.
Mary has partnered with leaders in numerous segments, including pharma, healthcare, publishing, financial services, hospitality, academia, and non-profit and she is affiliated with several organizations.  As a PROSCI-certified practitioner, she has worked as a consultant for RGP since 2016. As an ICF-credentialed coach (PCC) and CLP alum (2018), she has provided coaching and facilitation services for Lee Hecht Harrison since 2018, and her own private practice since 2019. Mary has also served as an adjunct faculty member of the MODL program at her alma mater, St. Joseph's University, since 2011.
A lifelong learner, Mary holds a Bachelor of Arts in Journalism from Temple University, a Master of Science in Organizational Development & Leadership and a Master's certificate in Adult Learning from St. Joseph's University, and a PhD in Business Psychology from The Chicago School of Professional Psychology. She also holds numerous professional certifications and credentials.
A die-hard Philadelphia native, Mary now lives in Bucks County with her husband and herds of white-tailed deer.