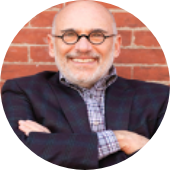 Mark Magerman, PhD, LCSW, BCD
CLP Faculty and Executive Coach
Mark brings a wealth of experience to his role as Faculty for GroupWorks'is an executive coach, a licensed clinical social worker, a psychotherapist, an organization development consultant, educator and co-founder of gestaltworks, LLC. He has more than 40 years of experience working with individuals, groups, teams, and organizations. He has worked with small and family-owned businesses and start-ups, as well as Fortune 100 companies. He spent 10 years as an Executive Vice President and Clinical Director for a managed behavioral healthcare organization. For much of his life, Mark has explored a wide range of humanistic practices. His current interests include leadership and engagement; organizational culture; group process; creativity; intimate relational systems; use-of-self; and the value of contemplative practice.
Mark earned a BA in Human Services and an MEd in Education and Psychology from Antioch College. He received an MSS in Clinical Social Work from Bryn Mawr College and a PhD in Human and Organizational Behavior from International University. Mark has extensive post-graduate training in Gestalt process, experiential learning and Neuroleadership. Mark is a faculty member of the Gestalt International Study Center, Gestalt Therapy Institute of Philadelphia, and St. Joseph's University. He is co-editor of The Lone Ranger is Dying: Gestalt Coaching as Support and Challenge.