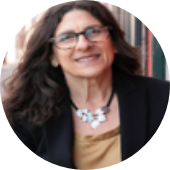 Debra Brosan, MA, OD, MCC.
CLP Faculty and Executive Coach
Debra Brosan brings a wealth of experience to her role as Faculty for GroupWorks' Coaching Leadership Program.  She has spent her career as a CEO, an organization development consultant, an executive coach, affiliate professor and founder of gestaltworks, LLC. Her expertise is at the juncture of sitting in the chairs of her clients and as an expert in executive coaching and organization development. Debra's entrepreneurial and leadership skills are used as CEO of gestaltworks llc, an international consulting and coaching firm specializing in change. Debra works with Fortune 100 companies, family owned businesses, and non-profit organizations. Prior to her current work, Debra spent 15 years leading her family manufacturing business, Alfa Packaging Corporation, including five years as President.
Debra holds a Masters in Organization Development from Fielding Graduate Institute and the esteemed MCC accreditation from the International Coach Federation.