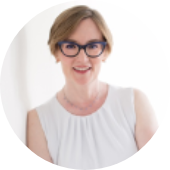 Clare Sautter, MS, PCC
Associate Director Coaching Leader Program
Clare Sautter, MS, PCC enjoys partnering with clients to discover what's possible. She uses the tools of organization development and strategic planning along with her curiosity and humor to build valued results for clients. She currently is the Associate Director for the Coaching Leader Program at GroupWorks.  She is also an affiliate professor in Organization Development and Leadership at Saint Joseph's University where she teaches Strategic Leadership and Executive Coaching, serves at Villanova University as a coach for their Executive MBA program and runs her own consulting and coaching practice.
Clare's work experience is in health care, technology, higher education and non-profit leadership.  She worked as an Organization Development Consultant at Lehigh Valley Health Network and was Manager of Training and Organizational Development at Drexel University College of Medicine.  Clare has facilitated strategic planning processes, led focus groups and practice level meetings, developed patient experience surveys, created educational programs for Staff Grand Rounds, and worked with physician and nurse leaders to create solutions to engage staff and increase patient satisfaction.  Her non-profit experience includes Executive Director for Francisville Home for Smaller Animals and Program Director for Canine Partners for Life. In addition to her teaching at Saint Joseph's University, she has taught graduate classes as a lecturer at The Wharton School at The University of Pennsylvania.
Clare received her MS in Organization Development and Leadership at Saint Joseph's University and completed her thesis "Succession Planning for Non-Profits."  Additionally, she received a Certificate of Theological Studies from Lancaster Theological Seminary.  She holds the International Coach Federation's PCC credential. She received her coach training at the Newfield Network.  She served as the 2013 President of the Philadelphia chapter of the ICF.