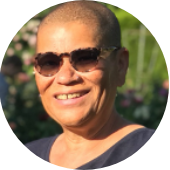 Clarice Bailey, PhD
Consultant and Facilitator
Clarice brings her talent and expertise to GroupWorks as a consultant and facilitator.  She is a public sector leader, bringing the principles and strategies of organizational development to city, state and national systems of child welfare, juvenile justice, mental health, community-based youth and adult programs, public and private education.
Clarice provides liberation, equity centric and trauma informed consultation and instructional design informed by abolition pedagogies and mindfulness.
Clarice holds a doctorate in Public Administration and Policy from Portland State University (Portland OR) and a bachelors from Temple University (Philadelphia PA) with concentrations in Justice and Organization Development.  Clarice is a certified practitioner and instructor in Conflict Resolution/Peer Mediation and Linkages/William Bridges' model of Change and Transition.  Dr. Bailey also holds the National Peer Support Specialist Certification from Mental Health America.
Dr. Bailey is affiliate faculty at Saint Joseph's University (Philadelphia, PA) in the Masters of Organization Development and Leadership graduate program teaching Beyond Diversity: Organizational Change, Culture and Leadership.  Clarice is the co-founder of Girls Justice League, a female identified activist and advocacy organization in Philadelphia, PA.  And finally, Clarice is a certified Yoga Instructor.