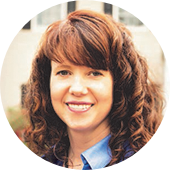 Bridget O'Brien, PhD, PCC
CLP Faculty and Executive Coach
Bridget is Faculty for GroupWorks' Coaching Leadership Program. She has over 25 years of experience in the field of Organization Development and Change Leadership and leverages her experience to create customized organizational and team development strategies to help her clients meet their business goals and objectives. She has held roles as an external management consultant, led a Strategy Realization Office for a manufacturing site at a major pharmaceutical company, and ran a Global Training & Development department for a financial firm in New York City.
Bridget is also an adjunct faculty member in the Organization Development and Leadership Master's degree program at Saint Joseph's University and some of her work on Team Dynamics has been published in the Pfeiffer Annual. Bridget holds a MS in Organizational Psychology from St. Joseph's University and a PhD in Human and Organizational Systems from the Fielding Graduate Institute. She is also a certified coach through the International Coaching Federation.Bridget lives with her husband and two cats in Doylestown, PA.