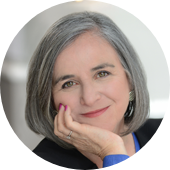 Beulah Trey, PhD
CLP Faculty and Executive Coach
Beulah Trey is Faculty for GroupWorks' Coaching Leadership Program.  She is a licensed psychologist, executive coach and consultant and founder of Vector Group Consulting. She is an expert at transforming organizations, leaders, and teams to navigate the unpredictable, informal side of organizational life through a values-based approach. She is known nationwide for her coaching mastery with physicians and health care leaders. She is an adjunct assistant professor at the University of Pennsylvania, has taught at The Wharton School and the Medical College of South Carolina. In 2005, she co-founded Mussar Pathways Institute, to promote ethical character development.
Beulah is certified in Positive Psychology, numerous assessments and is a Team STEPPS Master Trainer. She holds a PhD from the University of Pennsylvania and a BA from Swarthmore College.  Her most recent publication is, Turning Mission-Based Academic-Department Leaders into a Leadership Team: A Case Study in Creating Value, in the New England Journal of Medicine-Harvard Business Review.